Funk-Flex Elite Strength and Conditioning for MMA, Martial Arts and Combat Fighters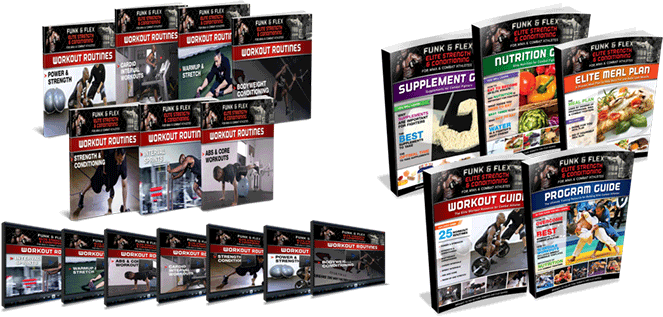 This is our "Flag Ship" product and the one all other products are built under. If need to start anywhere it's with the Elite Strength and Conditioning for Combat Athletes.
The program is teaches you the type of conditioning training you need as a MMA, Martial Arts or Combat Fighter. You get training manuals and 24 workouts with downloadable videos that are broken into 6 categories to ensure you using the right workouts to help you improve the attributes needed as a fighter. 
We provide you with a customizable schedule so you can organize your S&C workouts around your skill training sessions and everyday life activities. You can plug in the workouts we provide or use your own the bottom line is that you will never miss another workout.
You will also get one of the most important aspects of a fighter and that's a nutrition plan. We take all the hard work out of the diet equation by teaching you what to eat, when to eat and how much you need. 
You can choose to use the "Done for YOU" meal plans or the customizable "Do it YOURSELF" plan. Either or, you can now make sire that you are eating the right foods to help improve your energy, decrease inflammation, speed up recovery and burn fat so you can become the best fighter possible.
What You Get:
Elite Strength and Conditioning Program Guide

Scheduling Template

24 Instructional Workout videos and Manual (Download)

Warm Up and Stretch Routine, Videos

Member Protected Website

Elite Nutrition Guide

"Done for You" and "Do It Yourself" customizable Meal Plans

Supplement Guide

Funk Power 30 Foods
Get instant access when you sign up today.
Kettlebell For Fighters - 6 Week Strength and Conditioning Program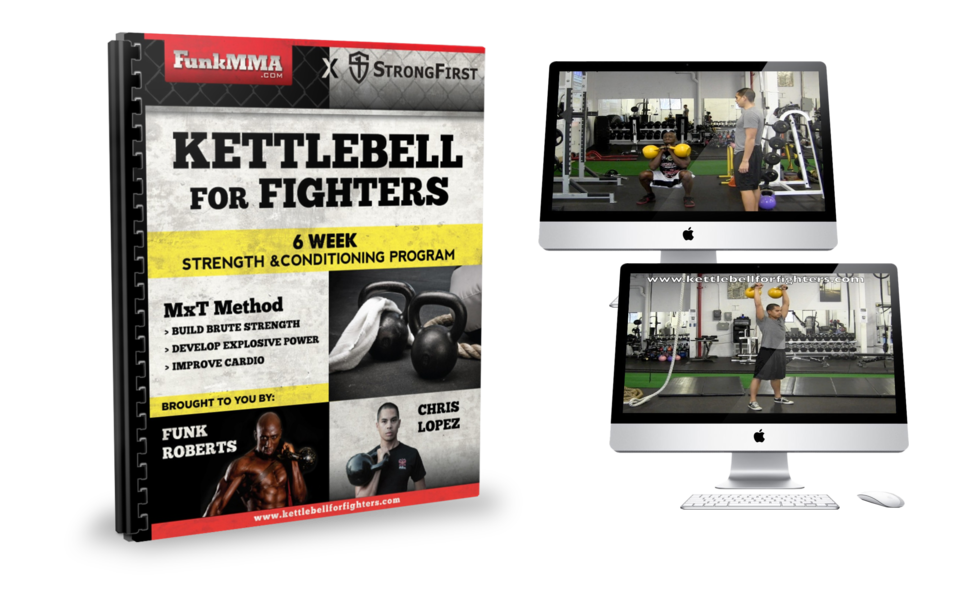 The Kettlebell For Fighters 6-Week Program Manual
In this 6-Week Periodized Program you will work on the qualities necessary to compete with and dominate the best - strength, power and most importantly POWER ENDURANCE. The Kettlebell For Fighters Program will leave you fresh and prepared to take on any opponent.
Instructional Workout Videos (Downloadable)
Funk & Chris take you through every series of workouts in the program so that you have access to tempo, specific coaching cues, rest periods and expectations of the program. It's like being personally trained by 2 of the best trainers in the world.
Coaching & Tutorial Videos (Downloadable)
Don't know how to use a Kettlebell? Don't worry! Chris - a 13 year training veteran - is a Certified StrongFirst Level 2 Girya and has worked with and learned from some of the best Hardstyle Kettlebell Instructors in the World - including Pavel himself.
With these Kettlebell Video Tutorials, you'll make sure you're doing everything with proper technique and learning a valuable skill that will carry over to your training for years to come!
The kettlebell exercises and workouts in this Kettlebell for Fighters program were strategically chosen to address the major needs of fighters…
You will improve
Overall Strength
Cardio/Conditioning
Power (Explosiveness)
Hip Explosiveness
Grip Strength
Isometric Strength Endurance
Muscular Endurance
Posterior Chain Strength
Core Strength
Unilateral Strength & Balance
Shoulder Stability
Get instant access when you sign up today.
BeastMode Bodyweight 4 Week Program for Fighters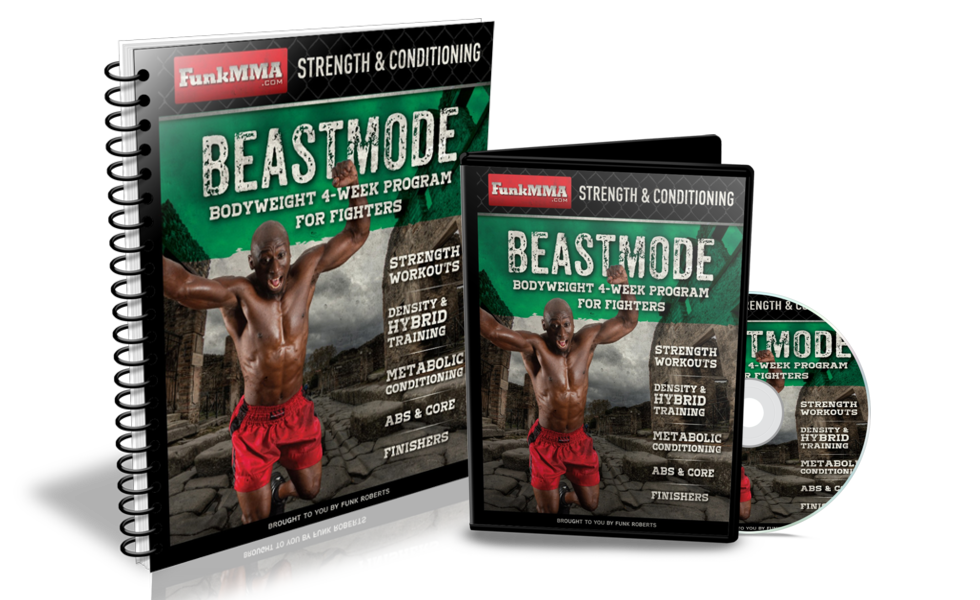 Now it's your turn to benefit from this highly effective training by using the Beast Mode Bodyweight 4 Week Program for Fighters. Get ready to take your training to the next level using strength workouts, hybrid supersets, animal flow, metabolic conditioning, density training, abs and core circuits and cardio finishers all using body weight exercises only. 
Whether you are fighting, just training or want to look like a fighter, the principles of bodyweight training can help you reach the condition and physical peak you have always dreamed of.
Get instant access when you sign up today.
Nutrition for Combat Fighters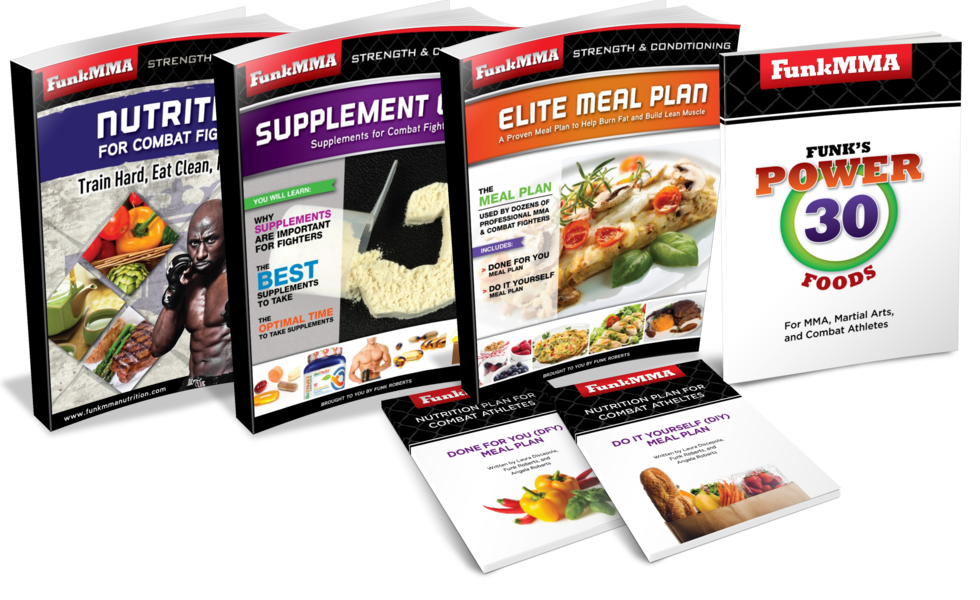 "At Last! COMPLETE Nutrition Plans For You…Used and Supported by Professional Fighters and Proven to Instantly Increase Your Energy, Incinerate Body Fat, Reduce Inflammation, Speed Up Your Post Training Recovery and Help You Build Powerful Muscle!"
When you eat the right food at the right time it will allow you to train at your peak level, give you increased energy, help you to recover faster and increase your metabolism so you burn more fat faster than ever!
What You Get: 
Easy to follow Done For You Meal Plan that will accelerate Fat Loss and Muscle Growth





We show you what to eat, when to eat and how much to eat to eliminate the   guesswork and ensure you are consuming high performance foods




Do It Yourself Meal Plan– Pick and choose from the list of foods choices, plug them

into the nutrition plan template and customize your meals so you can fuel the body

with the healthy foods you like




Complete "What to Eat Food List" of Proteins, Carbs and Fats for strength, muscle

gains, optimum fat loss and a fighter's physique

 

Power 30

Supplement Guide
Get instant access when you sign up today.
Funk-Flex Heavy Bag Conditioning Program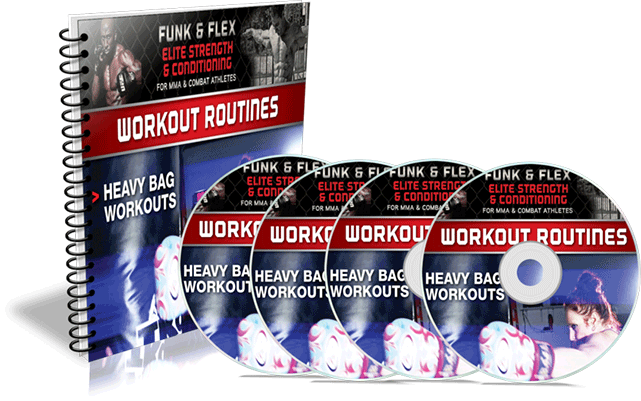 What You Get:
4 MMA HEAVY BAG INSTRUCTIONAL WORKOUT VIDEOS - 

The simple "how to" instructional workout videos you will watch a breakdown of each drill within the circuits and see the speed, power and endurance needed to crush through these training sessions and reach your conditioning goals. Each workout is shot in High Definition from different angles so you see how to do it right.

20 HEAVY BAG WORKOUT MANUAL - 

In this manual you will learn how implementing the heavy bag into your overall strength and conditioning training will make you an all around better combat fighter. We will give you tips to using the heavy bag to ensure you are using the heavy bag effectively.

 

6 MMA CIRCUITS

9 MUAY THAI/ KICKBOXING CIRCUITS

5 BOXING CIRCUITS
Get instant access when you sign up today.
Best Combat Athlete Exercises You've Never Heard Of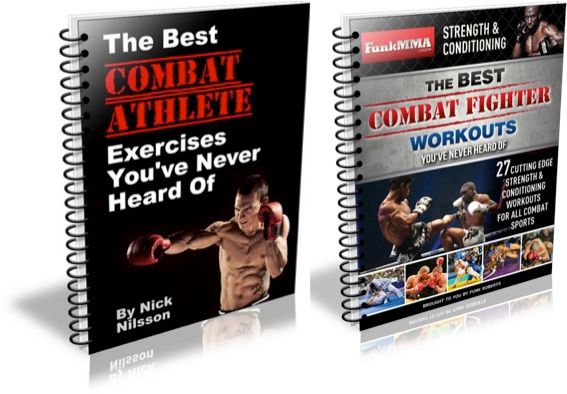 It's packed with a total of 173 unique, innovative and effective combat training exercises that will ELIMINATE training boredom and stagnation once and for all.
You'll learn NEW exercises, just like the five you've already seen, that will challenge your strength while building the functional, lean muscle you're looking for to help you win in the ring (or on the mat!).
I'll teach you how to use simple equipment (such as free weights, racks, sandbags and water jugs) to dramatically increase the training options available to you.

This stuff is GOLD...and fully approved by legendary MMA Trainer Funk Roberts


Exercises that address EVERY aspect of combat performance…
core strength
grip strength
power and explosiveness
punching power
kicking power
neck strength
muscular endurance
cardio capacity
pushing
pulling
you name it, I cover it.
SPECIAL BONUS: The Best Combat Fighter Workouts You've Never Heard Of... By Funk Roberts
27 power-packed workouts using the exercises you'll find in this book!
Use these workouts to maximize the results you get from these unique, new movements... planned out, charted and ready for you to plug directly into your training.
50 Shades of Burpees Finisher Program and Tabata Burpees
Burpees are a compound exercise that works almost every muscle in your body in one short sequence of movements. 
The exercise simultaneously works the upper body, lower body and core at once. Your heart and lungs are tested to the max as well.
A set of burpees will force your body to work 
far above your capacity to take in, transport and utilize oxygen and, subsequently, your anaerobic conditioning will improve.
Research has shown that high intensity exercises, like burpees, can burn up to 50% more fat than many traditional training exercises and long boring cardio.
Finishers are short metabolic workouts (HIIT) only, 3–10 minute routine at the end of each workout. They can improve muscle endurance and strength while jacking up your anaerobic metabolism, which will create the "Afterburn Effect".
The "Afterburn Effect" jacks up the metabolism enabling you to burn calories up to 36 hours after your training session.
This training resource combines the both to create 52 earth shattering 10-minute Burpee Finisher circuits and over 200 different burpee variations guaranteed to help you build insane cardio, explosive power, muscular endurance, core and abs strength, fat loss, agility, speed, quickness and balance.
Finally, Funk Roberts has put "FUN" into burpees that will challenge you, excite you and keep you wanting more! 
It's truly EPIC! 
The Combination of Burpees and Finishers is the Perfect Union to Increase Your Cardio and Burn Fat Fast, While Keeping your Workouts Fun and Challenging.
What You Get:
54 "Done-For-YOU" Burpee Finisher workouts
Contains over 200 Burpee Variations

54 Demo videos of each workout (Downloadable)

Member Protected Website with all downloads and videos
Tabata Burpees Program

Get 24 bodyweight only Tabata Burpee Workouts with 40+ new burpee variations and demo videos of each circuit
Get instant access when you sign up today.
Gauntlet Workout Program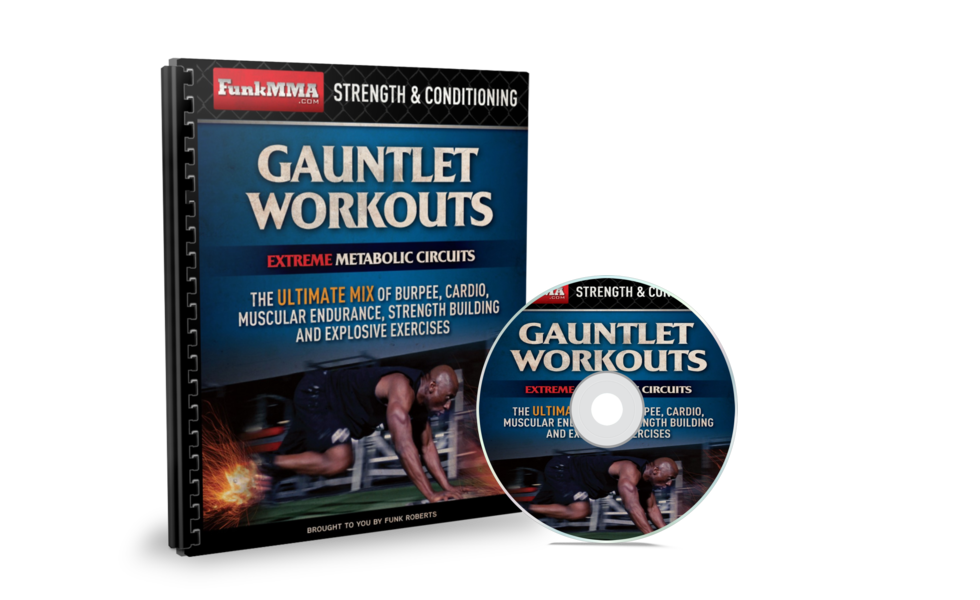 The new Gauntlet Workout Program is my unique metabolic circuits that train your strength and conditioning inside and out.

The program is a collaboration of 24 metabolic circuits to help you develop and improve your cardio, both aerobic and anaerobic, power, explosiveness, strength, muscular endurance, core/abs strength, agility and mental toughness.

The bi-product of using these workouts is also the fastest way to fat loss and calorie burn, while keeping your hard earned lean muscle.

Adding these circuits into your overall training will give you the competitive edge over your opponents and get you into the best shape ever
Top Coaches and Trainers always say you need to challenge yourself with tougher training in the gym, so you are prepared to face anything in competition.

These Gauntlet Workouts are the perfect solution to challenging circuits.  It's time for you to become a STRONGER and MORE PHYSICALLY DOMINATING HUMAN BEING!
What You Get:
24 Workouts and Demo Videos of each circuit
Each workout is 10 exercises done for timed intervals
 5 exercises in each workout are Burpee variations
Advanced training to test and push the limits physically and mentally while getting you into the best shape of your life
Easy to add these workouts into your regular training schedule 1-2 times per week depending on your goals
Amazing workouts for Combat Fighters, Sports Athletes, Gym Rats and Fitness Enthusiasts
Perfect resource for Trainers to add to the Toolbox
Get instant access when you sign up today.
"100% Risk Free Guarantee"
Test-drive any of the Funk Roberts Fitness products for 60 Days with absolutely no risk.  See for yourself how effective this proven system will be to improving your overall health, physique and performance in training and competition.  Use the done-for-you meal plans for 60 days. You are completely protected by my rock-solid 100% money-back guarantee.
If you are not completely satisfied, you can simply contact me and ask for a prompt, no hassle, no questions asked, 100% refund.
FUNK ROBERTS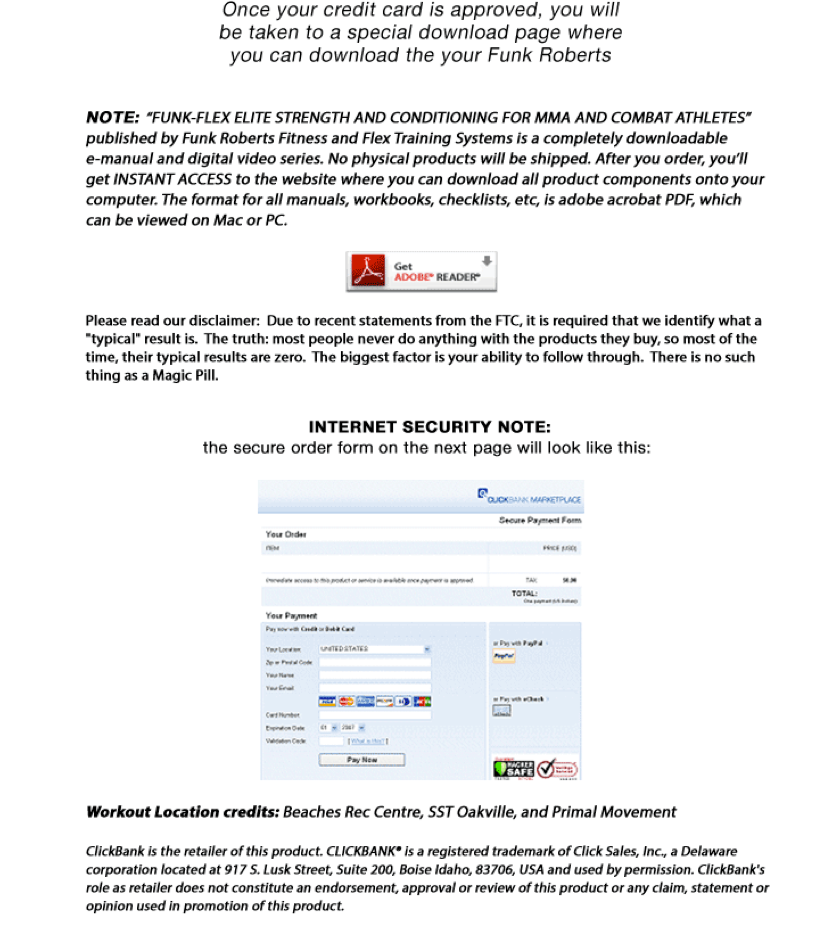 FTC Legal Disclaimer: Results may vary, and testimonials are not claimed to represent typical results. All testimonials are real, and all the men and women pictured transformed their body through using FunkMMA Nutrition for Combat Fighters. However, these results are meant as a showcase of what the best, most motivated clients have done and should not be taken as average or typical results.
Funk Roberts is not a doctor, and his advice is not a substitute for medical advice. Consult your physician before beginning any exercise or nutrition program.
ClickBank is the retailer of this product. CLICKBANK is a registered trademark of Click Sales Inc. a Delaware corporation located at 917 Lusk Street, Suite 200, Boise Idaho, 83706, USA and used by permission. ClickBank's role as retailer does not constitute an endorsement, approval or review of this product or any claim, statement or opinion used in promotion of this product
Enjoy!
Funk Roberts
Funk Roberts Fitness and FunkMMA